The Huizenga Huddle: April 27, 2018
Combating The Opioid Crisis



As West Michigan residents, we take pride in our community. On Saturday, April 28th from 10 AM until 2 PM, we have another opportunity to strengthen West Michigan by participating in National Prescription Drug Take Back Day.

Local law enforcement and medical professionals are teaming up to provide a safe and responsible way to dispose of excess prescription drugs and raise awareness of the opioid crisis. To learn more about how you can make a difference, please watch the video below.



At the last National Take Back Day in October of 2017,

912,305 pounds

of prescription drugs were collected, more than the weight of three Boeing 757 airplanes.

To find a list of participating secure drop-off sites in West Michigan click here.

If you can't participate on Saturday, you can drop off unneeded prescription drugs at participating CVS and Walgreens locations or by ordering a free safe disposal mail-in envelope from the National Safety Council at NSC.org/TakeBack.

Together, we can put a stop to the scourge of opioids and make West Michigan an even better place to live, work, and raise a family.



Continuing the Conversation on School Safety



On Monday, I sat down with students at North Muskegon High School as well as students at Reeths-Puffer High School for a wide-ranging town hall style conversation on steps that have been taken at the federal level to improve school safety, strengthen mental health care, and combat gun violence.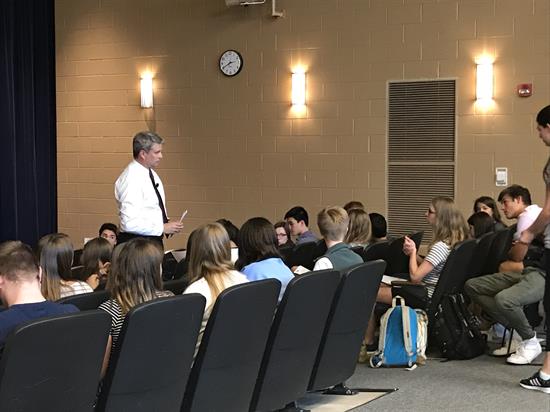 Earlier this month, I visited Fremont High School and had a similar conversation with students about school safety as well as the legislative process at the federal level. I also met with local law enforcement officials and members of Newaygo County ISD to hear first hand what they believe the best steps are to keep students in Newaygo County and West Michigan safe.


As the father of five children myself, I am committed to protecting our students and working to keep them safe. I recently penned a short piece in the Holland Sentinel discussing what I believe are some of the steps we can take to improve school safety while preserving the second amendment, and building on actions already taken at the federal level. You can read my op-ed here
.



Talking Tax Reform In West Michigan



Earlier this week, I joined members of the White Lake Chamber in Whitehall to discuss how tax reform is going to impact hardworking middle income families and job creators across West Michigan.



Over the last few weeks we have seen more companies continue to respond positively to tax reform by increasing bonuses, raising wages, and expand benefits. Locally, iWear Solutions in Norton Shores, Lawn Doctor in Hudsonville, Two Men in a Truck in Wyoming have all recently announced positive impacts from the Tax Cuts and Jobs Act. This is in line with a national trend showing that the number of small businesses raising wages has hit a 17 year high.



Lower tax rates, higher wages, and better benefits are part of the reason tax reform is increasing opportunity, improving financial security, and lifting outlooks for consumers and businesses.

To learn more about the Tax Cuts and Jobs Act and how it will impact you, click here.



It's Past Time For A Balanced Budget Amendment



On April 12th, I voted in support of adding a Balanced Budget Amendment to the Constitution. I believe this is something that is desperately needed to fix Washington's broken budgeting process.

Specifically, this Balanced Budget Amendment:


Provides that total outlays for any fiscal year shall not exceed total receipts for the fiscal year, unless three-fifths of the whole number of each House of Congress shall provide by law for a specific excess of outlays over receipts by a rollcall vote
Provides that the limit on the debt of the United States held by the public shall not be increased, unless three-fifths of the whole number of each House shall provide by law for such an increase by a rollcall vote
This year the House passed 12 responsible and conservative appropriation bills while the Senate passed 0. This scenario is precisely why continuing resolutions and omnibus funding bills have become so common place.

It's worth noting that nearly all House Republicans voted in favor of balancing the budget (7 voted against), nearly all of the Democrats voted against it (6 voted in support). Because a Constitutional Amendment requires a two-thirds vote for passage unfortunately this measure failed.

Moving forward, I will continue to support efforts that require Washington to be held accountable to West Michigan taxpayers through a Balanced Budget Amendment.



The Situation in Syria




The Syrian Regime led by Bashar al-Assad must be held accountable for its continued use of chemical weapons to indiscriminately kill innocent men, women, and children.
I support the targeted and decisive action taken by the United States alongside our British and French allies.
The United Nations, our NATO allies, and members of the Arab League must recognize that both Russia and Iran continue to enable al-Assad to slaughter his fellow Syrians through any means necessary. This behavior, and support for it, is unacceptable.

The United States must work with our allies in the region and across the globe to help provide a resolution to the conflict in Syria. I do not believe one-off military strikes are an adequate strategy, and I do not believe it is wise for the United States to attempt to solve this problem unilaterally.

The Michigan Minute
| | | | | | |
| --- | --- | --- | --- | --- | --- |
| And follow me on: | | | | | |
Washington, DC Office
2232 Rayburn HOB
Washington, D.C. 20515
T (202) 225-4401
F (202) 226-0779
Grand Haven Office
1 South Harbor Ave. Suite 6B,
Grand Haven, MI 49417
T (616) 414-5516
F (616) 570-0934
Grandville Office
4555 Wilson Ave. SW Suite 3,
Grandville, MI 49418
T (616) 570-0917
F (616) 570-0934
UPDATE SUBSCRIPTION OPTIONS | PRIVACY POLICY | CONTACT US