The Huizenga Huddle: May 20, 2020
The Speaker's Partisan Actions



Up until last week, both the House and Senate had largely been working in a bipartisan manner to address challenges created in West Michigan and communities across the nation.

In the run up to Friday that all changed. Speaker Pelosi released $3 trillion legislation that had zero input from Republicans. On top of that, the Speaker and the Democrat Majority loaded this bill up with liberal provisions that federalized elections, funded Planned Parenthood, and permitted undocumented workers to collect stimulus checks.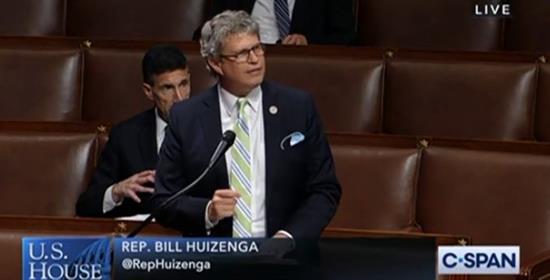 Prior to the vote, I spoke on the House floor against this partisan wish list saying: What the manufacturer in Kentwood, the pizza shop owner in Muskegon, or the farmers and growers that I have heard from across West Michigan expect is for Congress to take a reasonable and responsible approach. That is not what is happening here today. You can watch my entire floor speech by clicking on the image above.

After the Speaker muscled through this $3 trillion partisan grab bag, I walked out the doors of the Capitol, I took out my phone and did a Facebook Live update for West Michigan to let folks at home know what just happened.



The video clearly resonated with folks in West Michigan and around the nation. By Monday evening, the video had been viewed over 1,000,000 times. If you haven't had the opportunity to view it yet, please click on the image above.



Proxy Voting Sets A Dangerous Precedent



While the $3 trillion partisan wish list grabbed headlines around the nation, the reality is this bill will not pass the Senate. I believe Congress needs to restore the bipartisan approach that existed before the Speaker decided to jam through her legislation.

One item that has not been extensively examined in the media is the Democrat Majority's decision to change how the House of Representatives functions.



For the first time in our nation's history, proxy voting has been approved for the House floor. This means Speaker Pelosi can essentially run the majority with 22 members of Congress because the new rules permit each member to carry or represent the votes of 10 other members of Congress.

This is an incredible and concerning consolidation of power. I spoke to Breitbart News about this on Saturday evening on my drive back from Washington. I believe this change sends the wrong message, sets a dangerous precedent, and will be challenged in court on constitutional grounds. You can read my full interview here.

The Road Ahead

On Monday, I sat down with Fox 17 to recap what happened in Washington on Friday and to discuss two bills I have put forward called the HEROES Act and the Patriot Bonus.


It's important to note the HEROES Act legislation I am discussing is not the same bill put forward by the Speaker that cost $3 trillion.

I introduced the HEROES Act of 2020 on April 3rd to support first responders and health care workers by creating a four month federal income tax holiday. I continue to build bipartisan support for this measure because I believe it is a reasonable, responsible, and targeted way to recognize these individuals.

The Patriot Bonus is another bill I have introduced to incentivize pay increases for employees. All across America, truck drivers are delivering supplies, grocery store employees are stocking shelves, and sanitation workers are helping keep our communities clean.

These individuals are just a sample of those who have answered the call during this unprecedented time in our nation's history. We can recognize and reward these essential service providers in a responsible manner.

I recently discussed both of these free-market solutions in a piece for the Detroit News, which is available to read here.
The Michigan Minute
Washington, DC Office
2232 Rayburn HOB
Washington, D.C. 20515
T (202) 225-4401
F (202) 226-0779
Grand Haven Office
1 South Harbor Ave. Suite 6B,
Grand Haven, MI 49417
T (616) 414-5516
F (616) 570-0934
Grandville Office
4555 Wilson Ave. SW Suite 3,
Grandville, MI 49418
T (616) 570-0917
F (616) 570-0934
UPDATE SUBSCRIPTION OPTIONS | PRIVACY POLICY | CONTACT US